How to change the bot's name in Slack?
From the Slack App Directory, you can change bots' names, in the settings tab: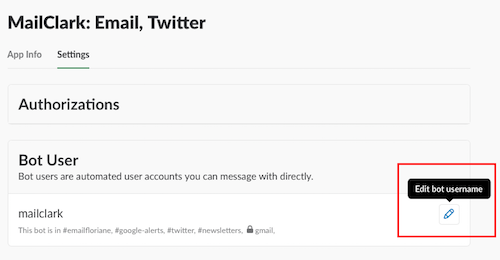 Why would you like to rename MailClark?
- Because your colleagues can't remember its name when it comes to use a command (i.e the commande
@mailclark
to send a new email)
- Because you'd like a relevant name when it posts messages in your channel (i.e you use it to receive alerts only so you might want to rename it "Alerts-bot" )
- Another reason related to the way you use MailClark and Slack?
We'd love to learn more about it
, to better understand how MailClark can help you in your daily life.
---
---